Discover more from Sebastopol Times
A independent publication with local news and views of Sebastopol, CA, and parts of West Sonoma County
Over 2,000 subscribers
It may not get a headline elsewhere or a catchy meteorological name but a sunny Sunday morning has made my day. Think of atmospheric sunshine as finding dry land after treading water for days in an atmospheric river. Heavy rains and storms have subsided for a short period but ol' man atmospheric river will be rolling along again soon.
Our reader, Richard, shared an impressive photo of last week's rainbow.
Analy's Zero Waste Club
Analy student Zoelie Kim wrote to tell us about the Analy High School Zero Waste Club:
Analy High School's Zero Waste Club has successfully launched its environmental program by hosting a campus cleanup on November 6th, 2022, bringing in over 40 student volunteers. Altogether, volunteers collected eleven 33-gallon bags of litter from the Analy and Laguna campuses leaving the campuses spotless. The Zero Waste Club also organized a waste audit conducted by students during school hours. This waste audit was able to determine how much compost, recycling, and landfill waste the campus generates in one day. This study will allow the club to measure its progress when it launches its next initiative the volunteer-operated greening stations. 
The Zero Waste Club will be introducing two greening stations in January 2023. Each greening station will contain a compost bin, a recycling bin, and a trash bin and will be manned by two student volunteers at lunchtime to help direct students where to throw away their lunchtime waste. The club saw success in its model by testing it out during Club Day in the weeks before winter break.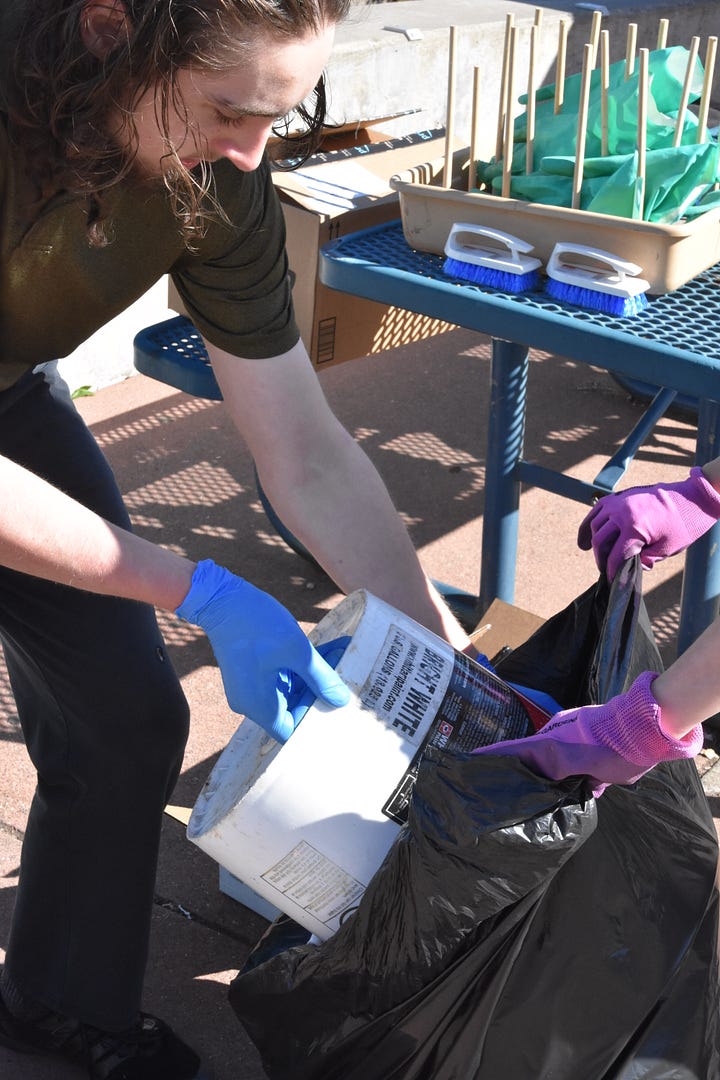 The Analy Zero Waste Club was founded in 2022 by Analy students. Their main goal is to reduce lunchtime waste with the use of volunteer-operated greening stations located at key points around the quad/cafeteria area with the intention of ultimately reaching near zero waste. To stay updated on the club follow them on Instagram @analyzerowasteclub.
Protections for Transgender Students on College Campuses
Eli Erlick, a UC Santa Cruz doctoral student, was quoted in a story in CalMatters about protecting transgender students at college and photographed in her parents' Sebastopol backyard during the holiday break.
California college campuses could face more responsibility for combatting discrimination against transgender and nonbinary students under proposed federal regulations making their way through the U.S. Education Department's lengthy rulemaking process, Zaeem Shaikh reports for CalMatters' College Journalism Network. The proposed rules would strengthen existing laws in California, which already bans discrimination based on gender identity and expression. "While on paper, trans students are certainly protected in our schools, we don't always experience that," said Eli Erlick, a UC Santa Cruz doctoral student who co-founded Trans Student Educational Resources.
Where Have All the Archives Gone?
With the passing of many local papers like the Sonoma West Times and News, it has gotten harder to find local news archives, in particular for the most recent past. Newspapers.com has archives of the following local papers:
Cloverdale Reveille 1880 to 2004

The Petaluma Newspapers 1876 to 2018

The Press Democrat from 1923 to 1997 

Sonoma West Times and News 1895 to 2016
Access to newspapers.com is provided through the Sonoma County Library (here).
Maintaining an archive requires work. Locally, some of that work has been done by the Western Sonoma County Historical Society. Mary Dodgion of the society wrote us in October to tell us: "reps from newspapers.com and University of Southern California, Bibliographical Studies (are) coming to the museum.  They are loaning us equipment to digitize the Sebastopol Times 1959 and 1961 newspapers."
But you'll notice that from the end of 2016, there are no more editions of Sonoma West Times and News online. The paper was printed up through May 2020. But the paper editions from 2016 to 2020 seem to have been lost during the closure of the paper. Once the paper stopped publishing in print and became an online-only paper, the only archive was online, and when the newspaper closed that disappeared too.
Now if you search on Google for a story written in Sonoma West (or its successor SocoNews.org) between 2016 and 2022, you'll discover that the links to the stories don't work. Even archive.org isn't that helpful as it indexed the home pages from the SoCoNews.org site but not the stories that were featured.
For most small towns like Sebastopol, the local newspaper is the only written record of its history. Local news archives are also an invaluable tool for journalists doing background research on current stories. Right now there's a giant hole where those archives should be.
Laura Hagar Rush and I have been looking at how to solve the problem of getting Sonoma West's archives back online. Mary Fricker of the Local News Initiative, which ran SoCoNews.org, is also working on this problem — and together, we're getting pretty close (we hope). We will keep you informed about our progress.
Searching on Sebastopol Times
I have has several people ask how to search the older stories on our site, SebastopolTimes.com. I admit that the search icon, which is magnifying glass, is located in an obscure place.
You can find the search icon on the home page at the break between the multiple columns of featured stories and the single column of "new" stories. I took a screen capture below. Click on the icon and then you can type in your search term; the listing of stories matching the search will show up in the single column.
You can also do a site-specific search from Google by typing "sebastopoltimes.com:" before the search term.
Subscriber Note
Sebastopol Times has 1,076 subscribers, 273 of which are paid subscribers. We appreciate your support. Our goal is 500 paid subscribers in our first year. Please join us and tell a friend as well.
Sebastopol Times is a reader-supported publication without advertising. To support our work, consider becoming a paid subscriber.